Our friend and client, Paolo Dominguez, and his team at Juble it! were the recipients of the "Big Idea Award" at the 2017 ComSpark Innovation Tech Summit.
Cincinnati OH – October 3, 2017 – Hundreds of guests gathered last week in Mason for the 2017 ComSpark Innovation Tech Summit. The annual two-day trade show brings together a myriad of tech companies, startups, investors, and students, all for one purpose – innovation.
ComSpark provides a platform for the growing Cincinnati tech community to celebrate accomplishments, milestones, and innovation, through their website, events, and more. This year's summit welcomed vendors such as Zoozler, and Physna, speakers and discussions featuring prominent executives from the Cincinnati area, and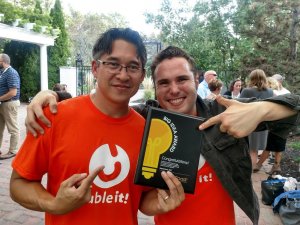 startup booths, for small companies to attract more business and spread awareness.
Among the startups in attendance was Juble it! – the social media button enabling people to spread their appreciation for things they love on the web through small donations or tips. Helmed by Paolo Dominguez, also named the 2017 Rising Tech Star, Juble it! was granted the Big Idea Award.
Follow their journey through their website and social media, as they prepare to present at the 2018 StartupGrind Global Conference in Silicon Valley.

Ethan Smith sat down for a chat with Vladimir Fridman, the founder and CEO of Plan Truth, an innovative platform where users can share their experiences with their healthcare provider, to learn more about what keeps the innovative entrepreneur motivated.
Vlad, I'm not very familiar with healthcare insurance – can you explain to me what Plan Truth is, and what it does?
"Plan Truth is the only place you can visit on the web to learn specifically about each healthcare plan in your state. It's a forum where consumers can come together with healthcare providers to share their healthcare plan experiences and rate how well their plan meets their needs."
And this covers any type of health insurance?
"Our website covers the main insurance programs in each state like Medicaid, Medicare, Obamacare, and private insurance too. If someone wants to learn more about Medicare, or about a specific insurance provider like BlueCross BlueShield, Aetna, Humana, or any specific plan, they just select the state they live in, and whether they're a patient or provider, and they can review each major plan offered in that state."
That actually sounds extremely useful. What made you decide to venture out and become an entrepreneur?
"I am a cardiologist by practice, and every year I am asked hundreds of times: 'what's the best health insurance for me?' I had no way of answering this, and there's not a lesson on insurance in medical school, so I turned to the internet to learn more about the options out there. I couldn't find much, but after a little more than a decade, I've learned a lot about the insurance world, and felt that I had to do something to help. It is such a disservice to anyone not to know their own insurance plan, or what their deductible is."
Entrepreneurship plus cardiology sounds pretty intense. Do you have any advice to give to someone that aspires to be an entrepreneur?
"If I were to say anything, I would say to learn a specific field first, then try to change it or innovate it. For example, if I wanted to change the way air traffic control worked, that would not be possible. After more than ten years of actual practice in medicine, I learned how the field really works – so then I started seeing ways I could improve it. How do you know what needs to be fixed if you're not in the nitty-gritty? You have to look at the status quo and your set of skills before you can really determine what needs to be fixed."
For more information, visit plantruth.com, and expect the updated site to launch Q4 of 2017.

The one-of-a-kind website provides consumers an easy way to compare all available health insurance plans in their state and choose a plan that works for them.
Cincinnati, OH – July 17, 2017 – PlanTruth, started by Dr. Valdimir Fridman, MD, is the first, and only, healthcare insurance ratings and review website. The innovative site aims to be the leading user-driven forum where consumers can come together to share their experiences with their health insurance provider, as well as provide data on the major plans in each state.
Immediately following his fellowship, Fridman, a New York cardiologist began noticing that a large majority of his patients were almost clueless about which insurance plan they needed most, or what their plan actually covered. After practicing medicine for over a decade, and being asked hundreds of times per year about the best insurance plans, Vlad decided that something needed to be changed.
"The problem with healthcare is that most people don't have a grasp on exactly which plan works best for them," says Fridman. "Insurance is something that most people have to figure out themselves, and it's difficult when there isn't an abundance of information out there to rely on."
Often asking their doctors for an opinion on which plan to pick, the average consumer needs more answers than what a doctor is generally able to provide. Plan Truth provides more useful information than what a physician or doctor may recommend, and goes further than other ratings sites by providing actual customer ratings and reviews instead of using quality assessment guidelines to rank the providers.
"Everyone needs health insurance, but every person requires a plan tailored just for them. Plan Truth helps lay out different options so consumers can see what works best for them as an individual," explains Fridman. "The point of Plan Truth is that we are a third-party, unbiased review site where people can share their own experiences, not a place to favor one provider over another."
You can expect the updated Plan Truth site to launch mid-Q4 of 2017.
###
For further information regarding this release, please contact:
Zoozler
Ethan Smith
esmith@zoozler.com